Wiley Gulick Clarkson III
and
Linda Gail Bishop
Family Pedigrees
Over the last several years I have spent a considerable amount of time researching our family heritage in the New World from 1600 to present. The following family trees were made possible by Ancesty.com. They show as much of the Clarkson and Bishop lines as is presently known. Where possible, I have identified Patriots of the American Revolution with an American Revolution flag. I have also identified ancestor Mayflower Pilgrims with a medallion looking icon. I have also identified Civil War Veterans using the this Confederate flag: . The next web site update of my family trees will include the Confederate Veterans. There were no Union veterans of the Civil War in my family.

Each tree shown below is linked to an expanded family tree in pdf format that includes important dates for each ancestor. All of the trees shown are also available on Ancestry.com under the name Isaacs. All of these trees start with either myself or Linda.

I started the project of tracing our family's heritage when I realized how little my family actually knew about our roots in America. As I began to dig and research, I found my family was filled with interesting ancestors dating back to before the Mayflower landed at Plymouth. One of my earliest ancestors in the Colonies was a signer of the Mayflower Compact. Coming forward in time, I found thirty-two ancestors who had fought the British or supported the patriots in the American Revolution. I did not find evidence of any British sympathizers. We apparently are a very patriot family! I found an ancestor-uncle who was known as the Swamp Fox and another ancestor who signed on to fight the British at the age of sixteen under the command of the Swamp Fox, Gen. Francis Marion. Francis Marion made him into spy who infiltrated the home of a British sympathizer. He was responsible for supplying information that brought about an important defeat of the British by Gen. Marion and the capture of a number of British officers. I found another ancestor Patriot who was conscripted into the British army in London, England in 1776 at the age of sixteen to fight the American rebels. After he landed in Boston, he disserted the British Army and joined the Continental Army to fight against the British. For his service, he was given a land grant in Westmoreland, Pennsylvania. He and his wife later moved to Kentucky where he was killed by Indians on the banks of the Ohio River. One of his sons would move to Texas in late 1846 and become the founder of the present town of Corsicana. I found another ancestor Patriot, a colonel who was captured by the British during the second battle of Charleston, along with several other ancestors. He would eventually be killed in a duel. Coming forward from the Revolution, I found ancestors who fought in every war the USA was involved in. During the War Between The States, I found that the first shots of the war were fired by an ancestor uncle at the Star of the West, a Union vessel that attempted to resupply Fort Sumter, and then at Fort Sumter several months later while waiting for his commission to become a Confederate army surgeon. He would later be praised by both the Union and the Confederate leadership for his relentless efforts to treat the wounded of both sides at Gettysburg. More recently, I had grandfathers who were very accomplished in their own fields of endeavor. My mother's father was a successful attorney in Fort Worth who opened the first fully air conditioned motor lodge in Fort Worth. My father's father became an outstanding Fort Worth architect in the first half of the 20th Century and still has a following of architects and architectural admirers, along with historical preservationists, who admire and study his designs today. His work has been recognized as some of the finest architectural work during the first half of the 20th Century in Fort Worth and across northern Texas. Linda's family, which has been much more difficult to trace, has also had surprises such as her third great grandparents who came to Texas as single adults and married in Tyler County in 1835. Her third great grandmother's brother was Anderson E. Barclay. Anderson and Erastus "Deaf" Smith captured General Santa Anna after the battle of San Jacinto. A recorded family story says that Anderson was also at Goliad and survived because he was hunting game for food the day Goliad fell to the Mexican Army. There have been a lot of very interesting stories I have read. The stories that passed down about ancestors tell a person what kind of men and women they come from, help explain who they are, and help set deep roots in the rich soil of the United States of America. Knowing where you came from and knowing the sacrifices your ancestors made helps give a person a good grasp on who he/she is. If you have not traced your roots in America, maybe you should start. A good place to start is on Ancestry.com. It also doesn't hurt if you are lucky enough to have a parent who can be classified as a historical archiver!

My hobby of tracing my ancestry has led to a membership in SAR for myself, SAR 188096, a membership in DAR for my wife, DAR 924016, and a membership for my mother, DAR 927619. My grandfather, Wiley Sr., held SAR 68100. Future goals are membership in the Mayflower Society for myself and membership in the Daughters of the Republic of Texas for Linda.

The links below each horizontal tree will bring up a pdf that is an expanded tree with important dates for each person.

This is important: If you see one of your ancestors in any of our family trees listed on this page, please send us an email. It's always interesting to meet new relatives. I have found several relatives who are fairly close in relationship using family trees and DNA testing!
Wiley's Family Trees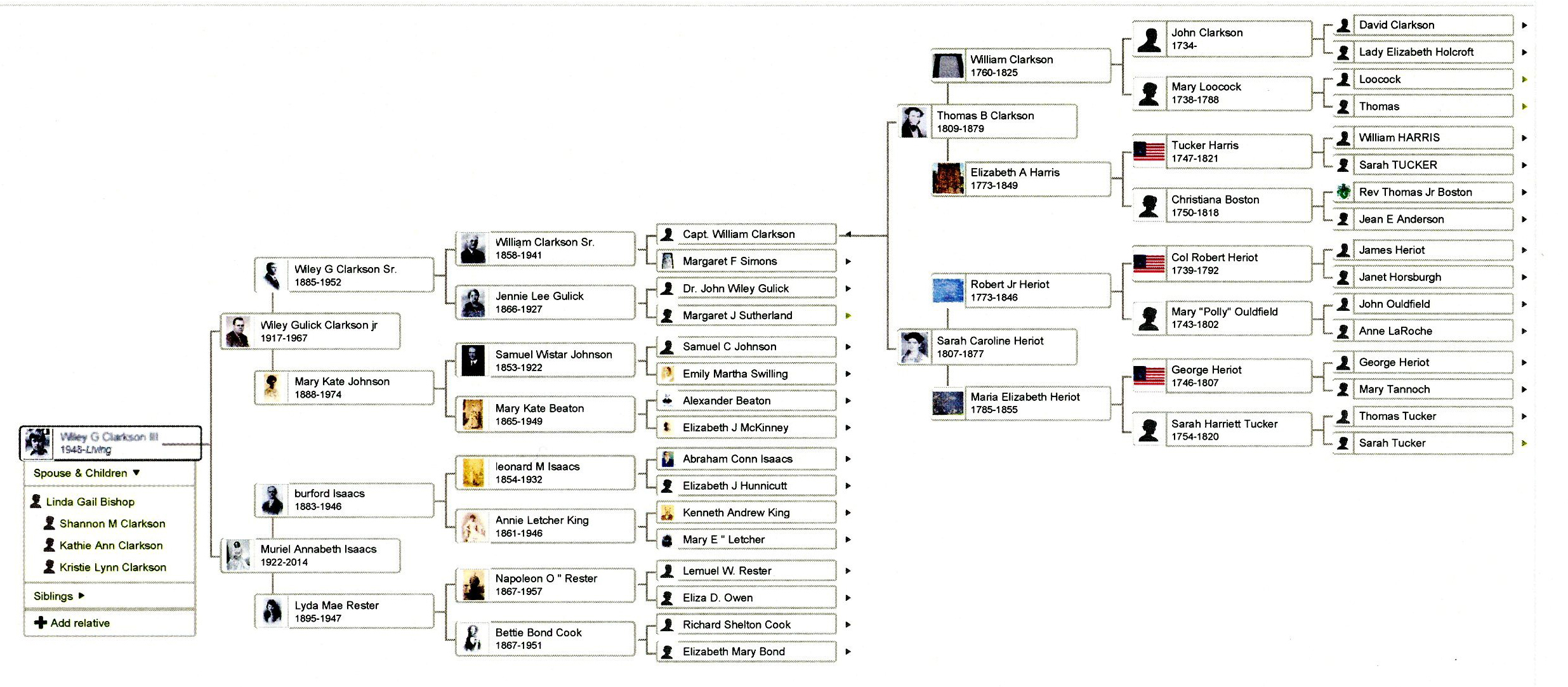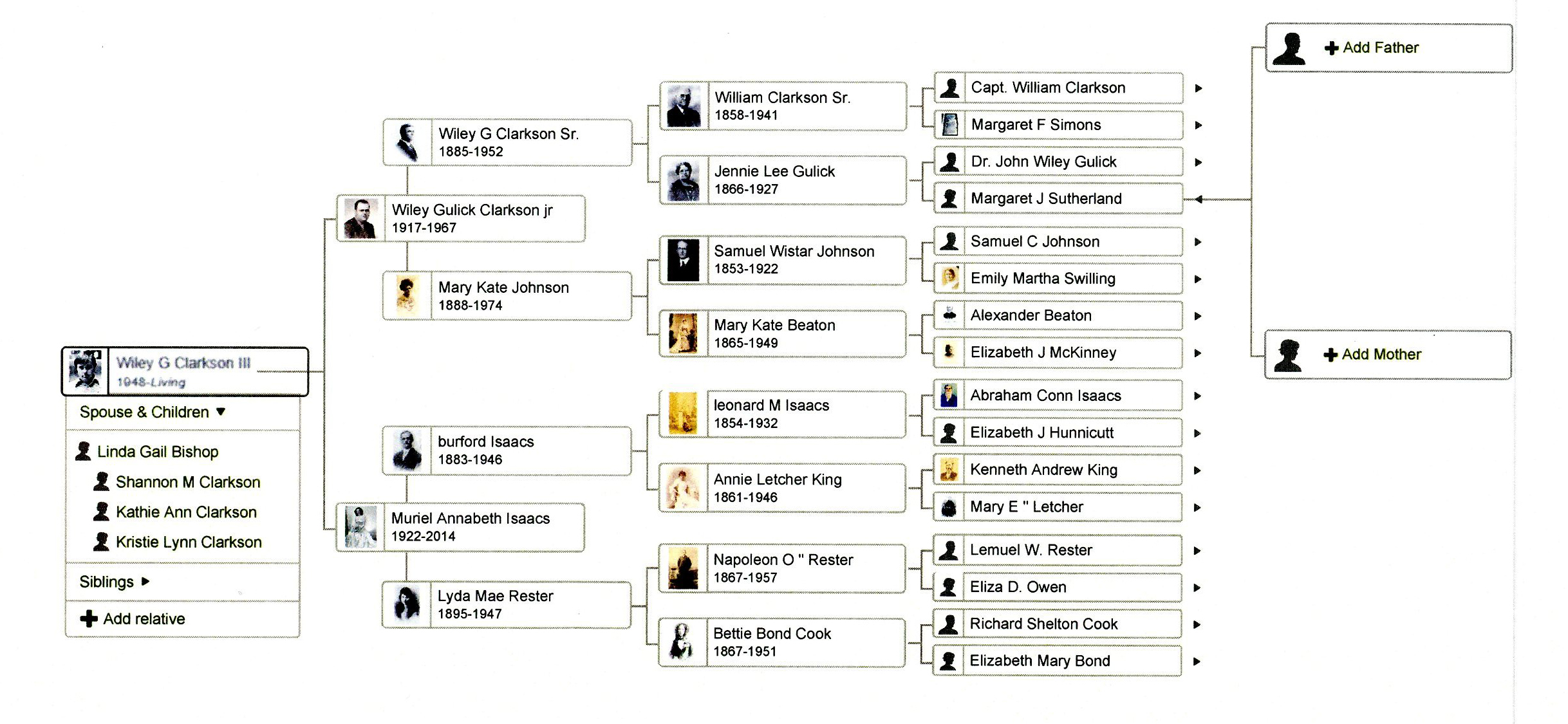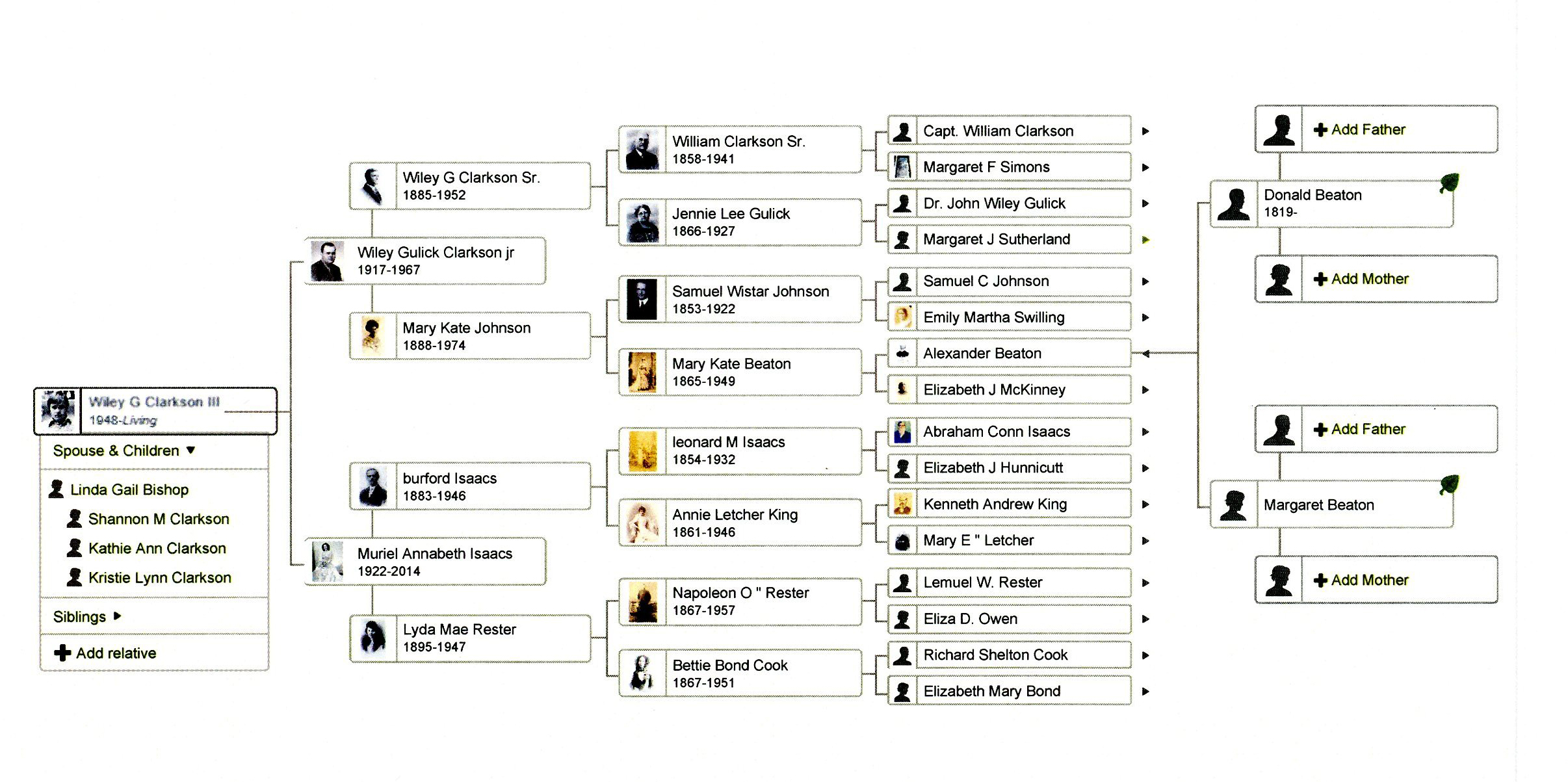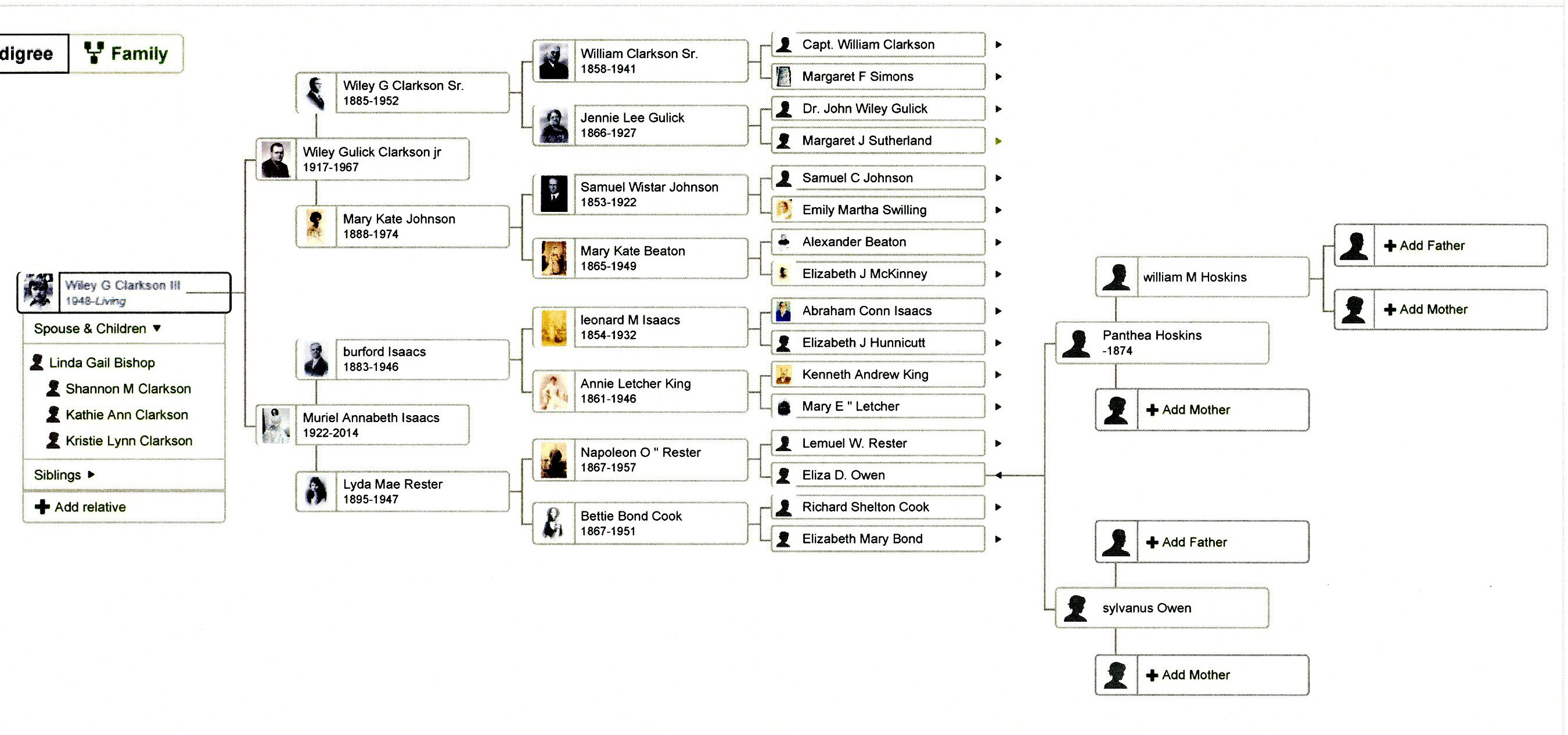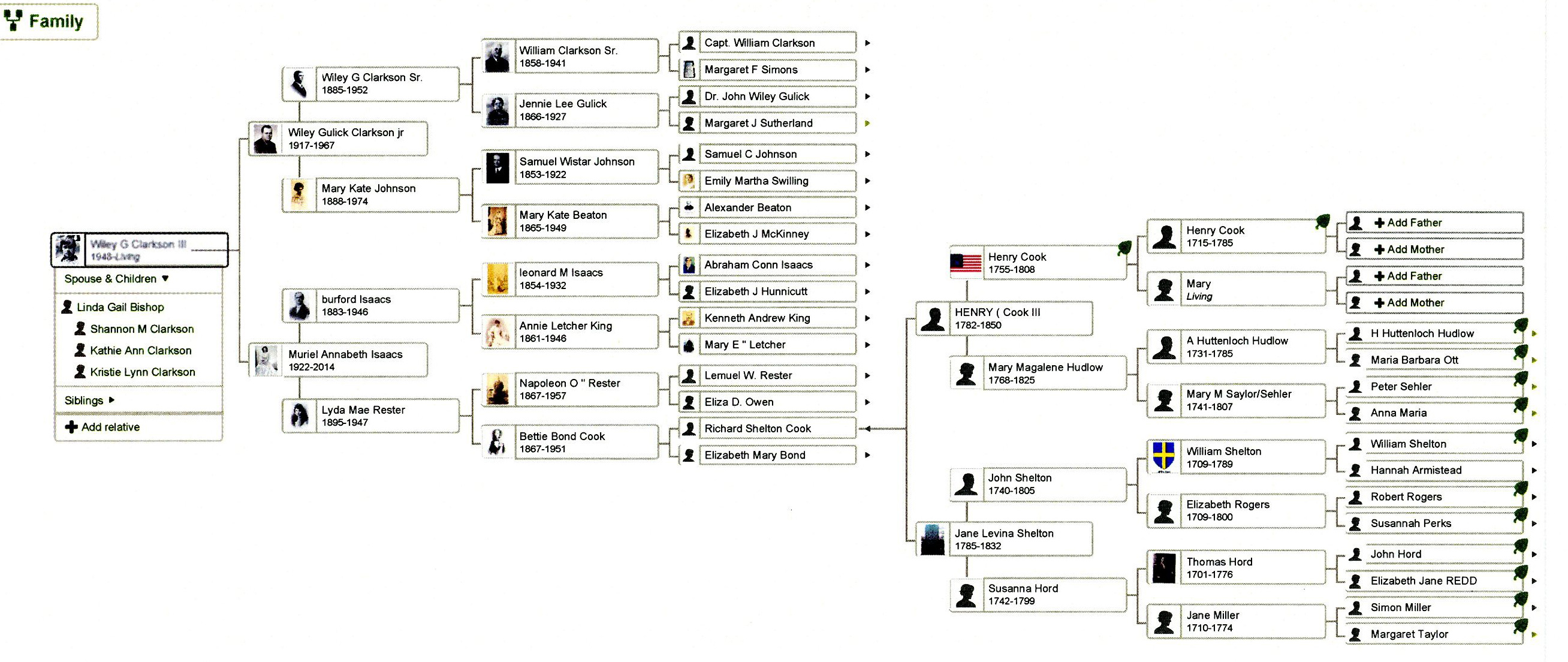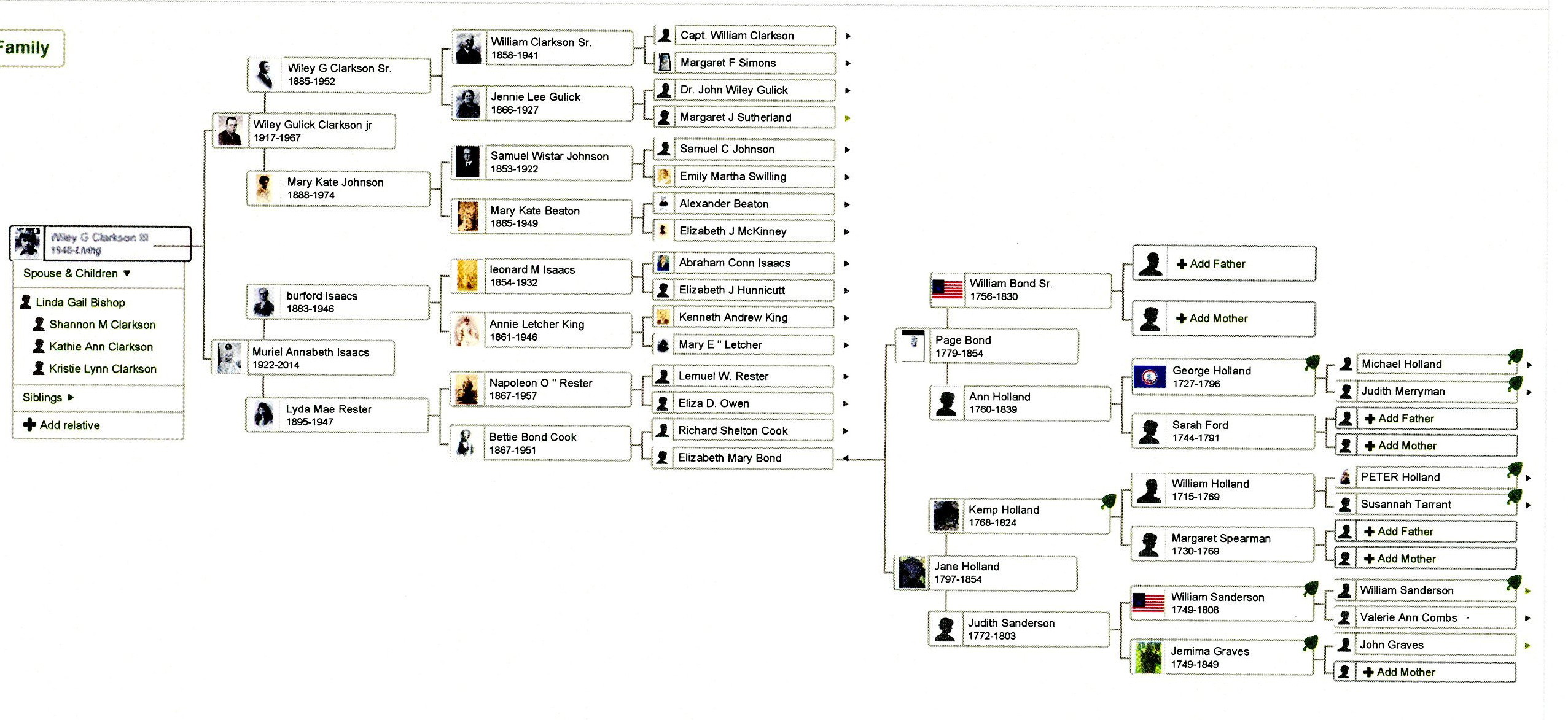 The Mayflower Connection
This was a bit of a surprise to me as I was not really looking for this, especially since the vast majority of my ancestors came into the Colonies through Charleston and a couple of other ports that were south of New York. I had not pushed this particular line back any further than the Revolution. For some reason I had stopped at Nathaniel Knotts, who was a Patriot in the Revolution. After being contacted by a descendant of Nathaniel Knotts, who had not had very much research done on him and his ancestors, I decided to go ahead and push it back some more to see when this line came into the Colonies. I was pleasantly surprised to find enough information on Ancestry.com to take his line back to three passengers on the Mayflower, one of who was a signer of the Mayflower Compact. When I have a little more time, I have found a Mayflower Society member and researcher who told me she would help me see if it can be officially verified.
Isaacs - Letcher - Bozeman - Knotts - Snow - Hopkins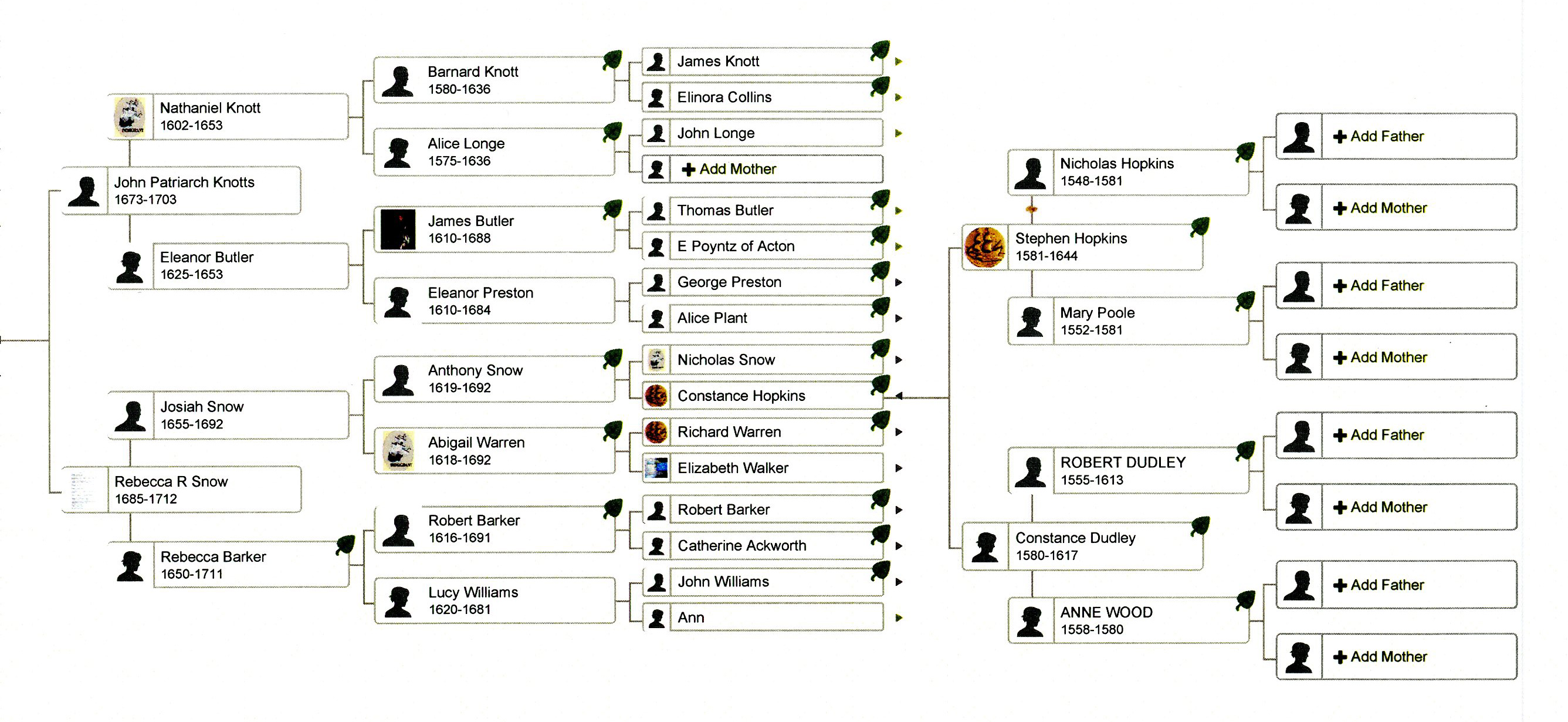 Linda's Family Trees
Bishop-Bishop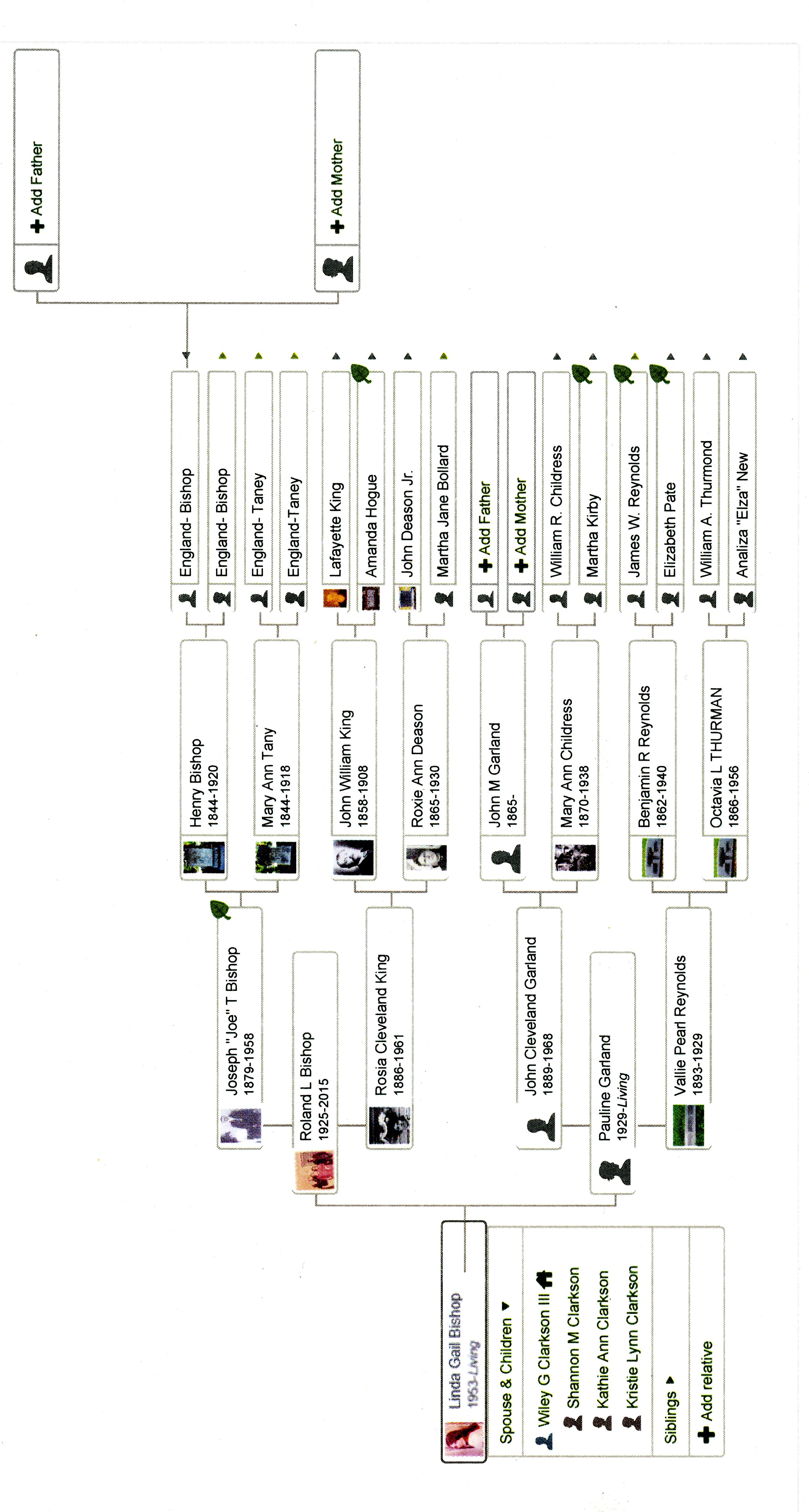 Bishop-Taney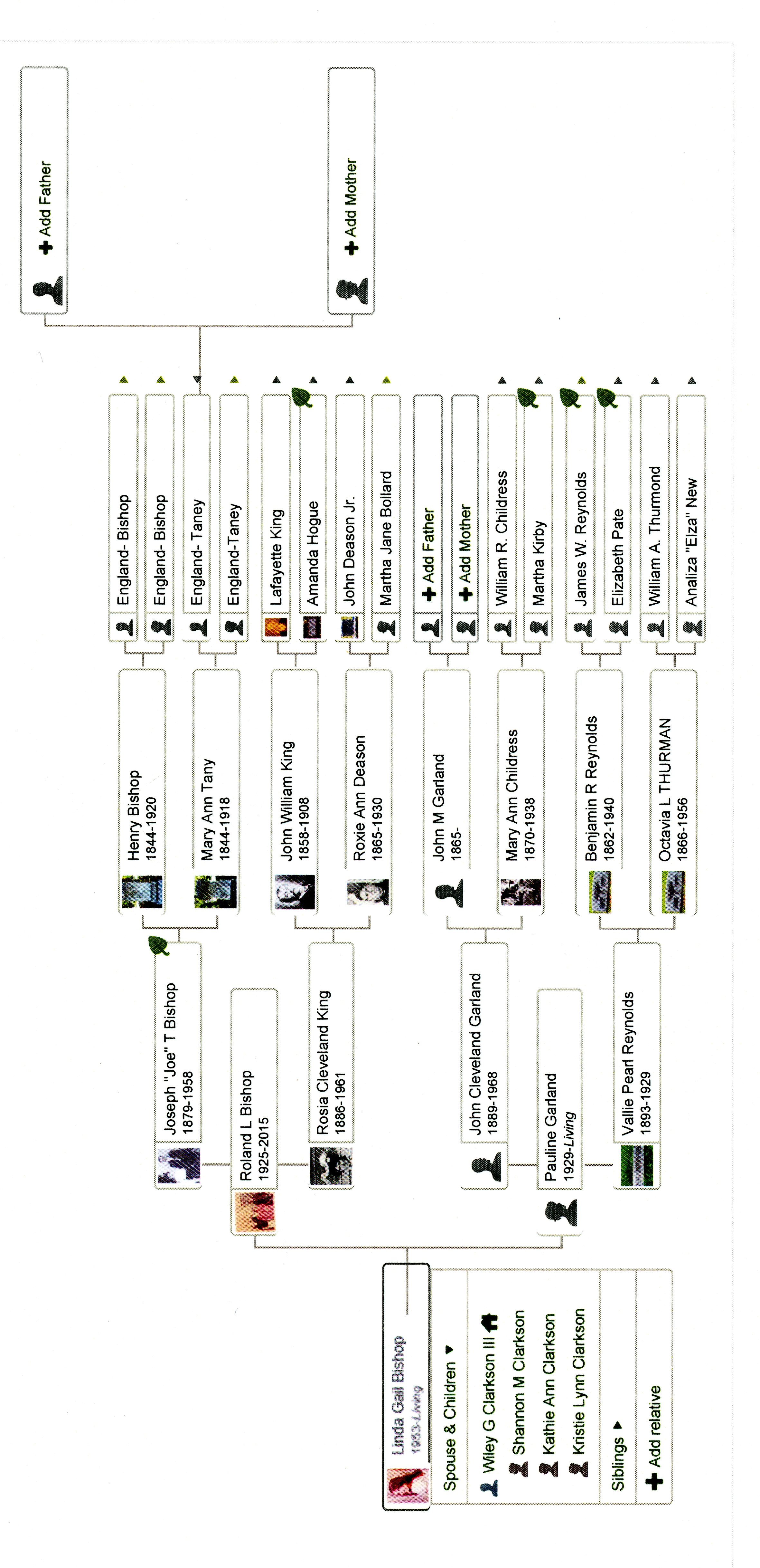 Bishop-King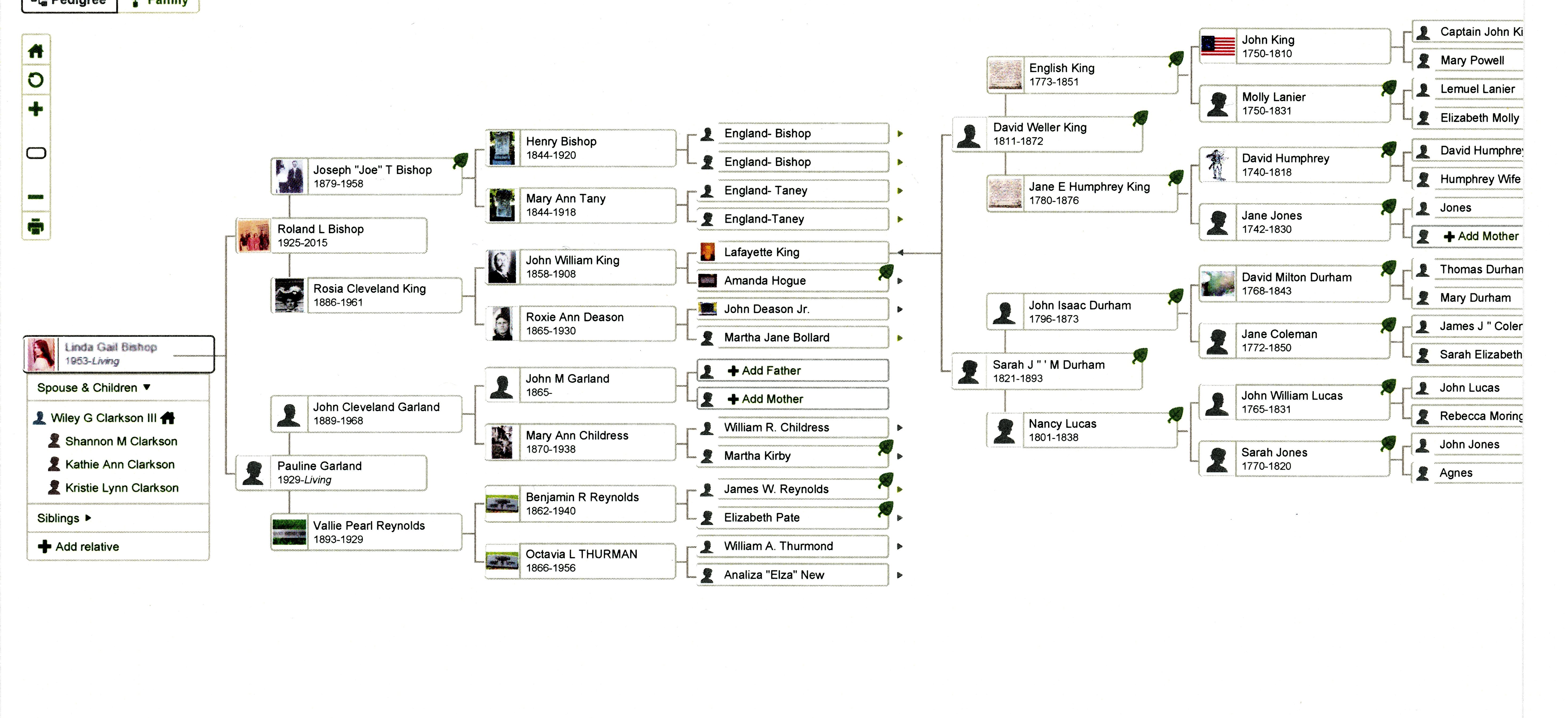 Bishop-Hogue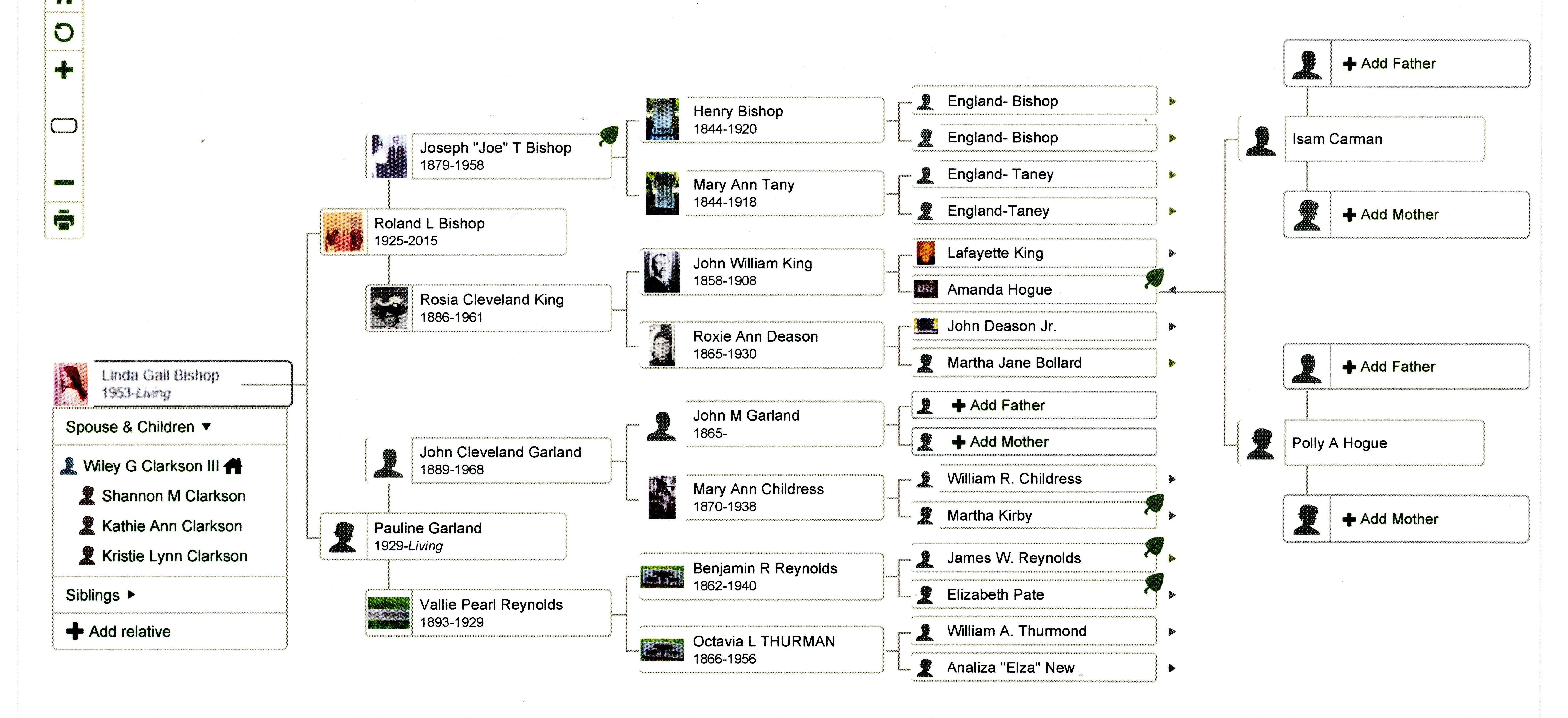 Bishop-Deason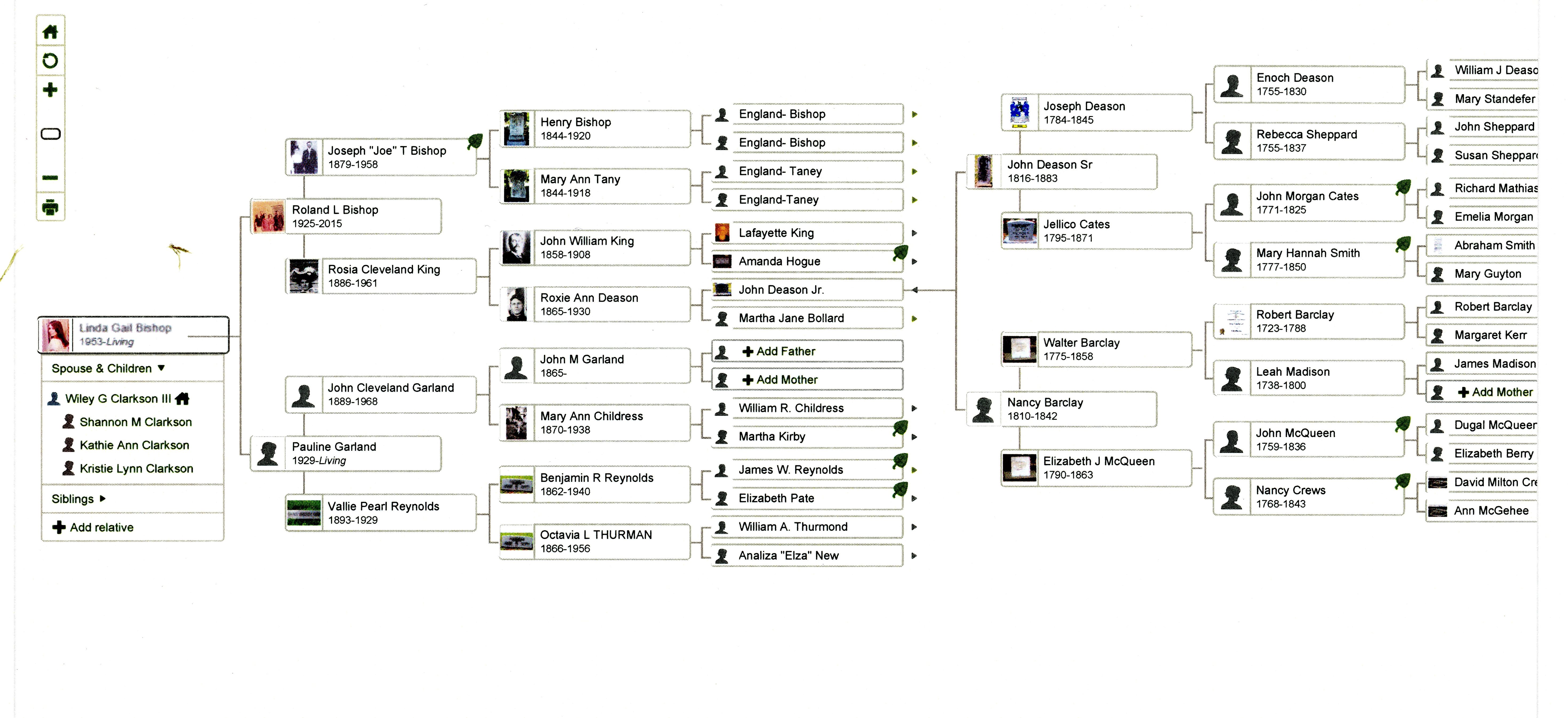 Bishop-Bollard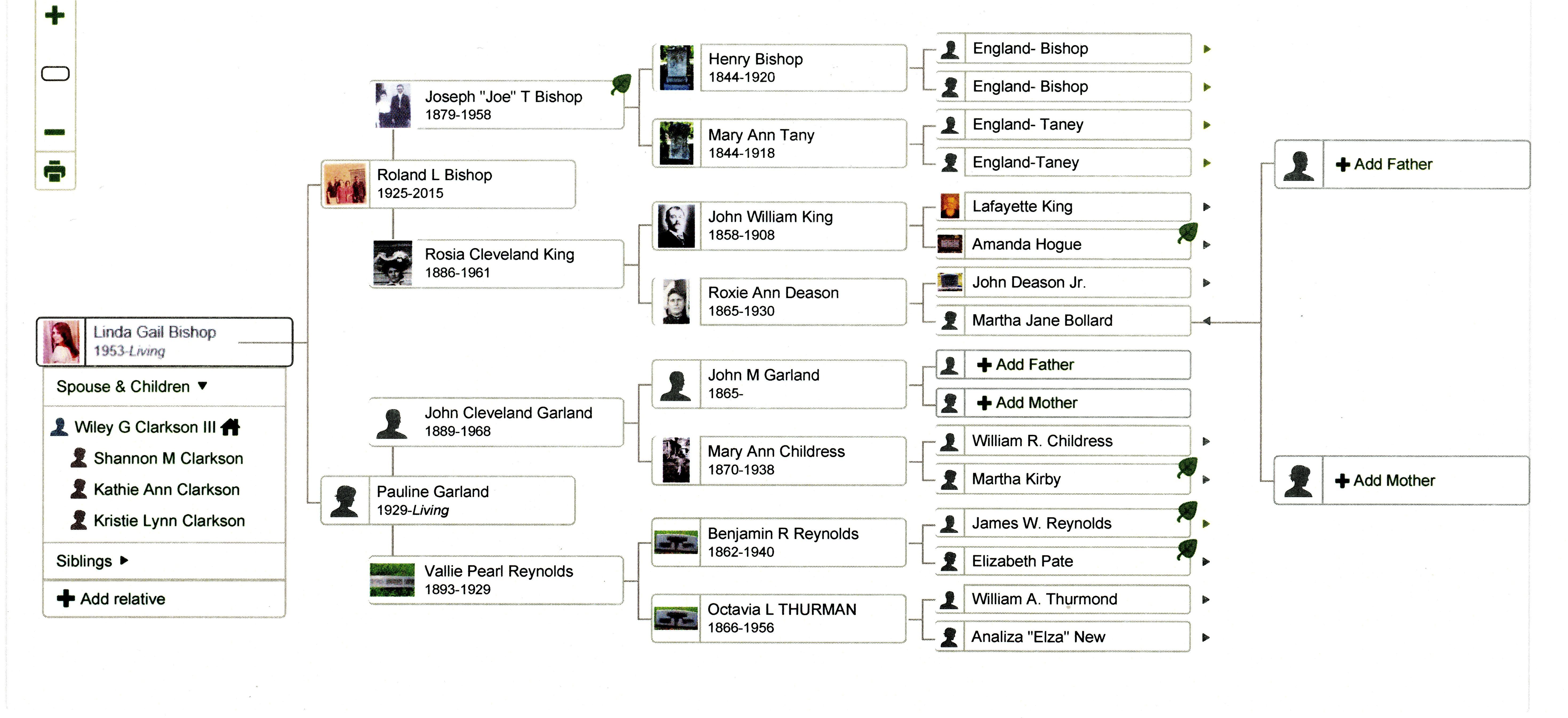 Garland - Garland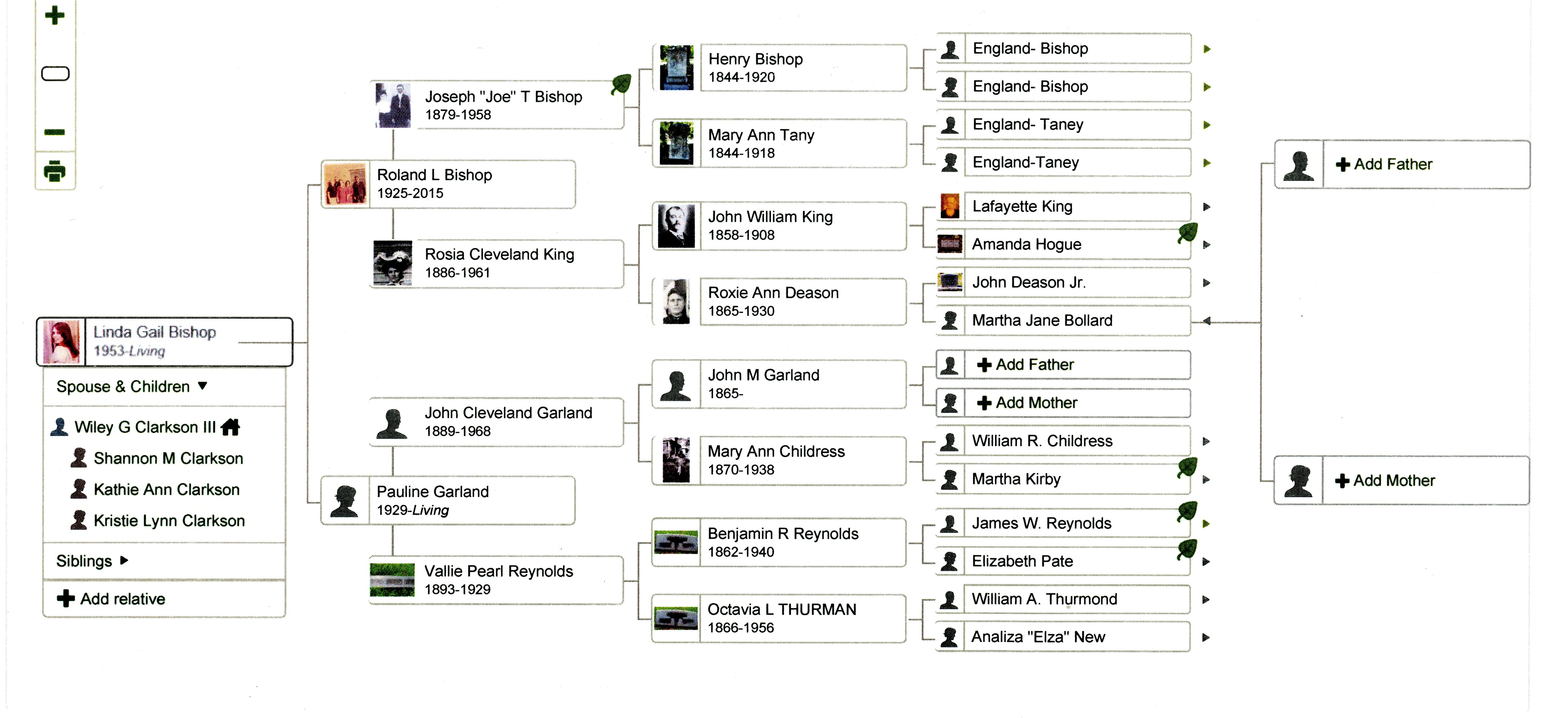 Garland - Childress

Garland - Kirby

Garland - Reynolds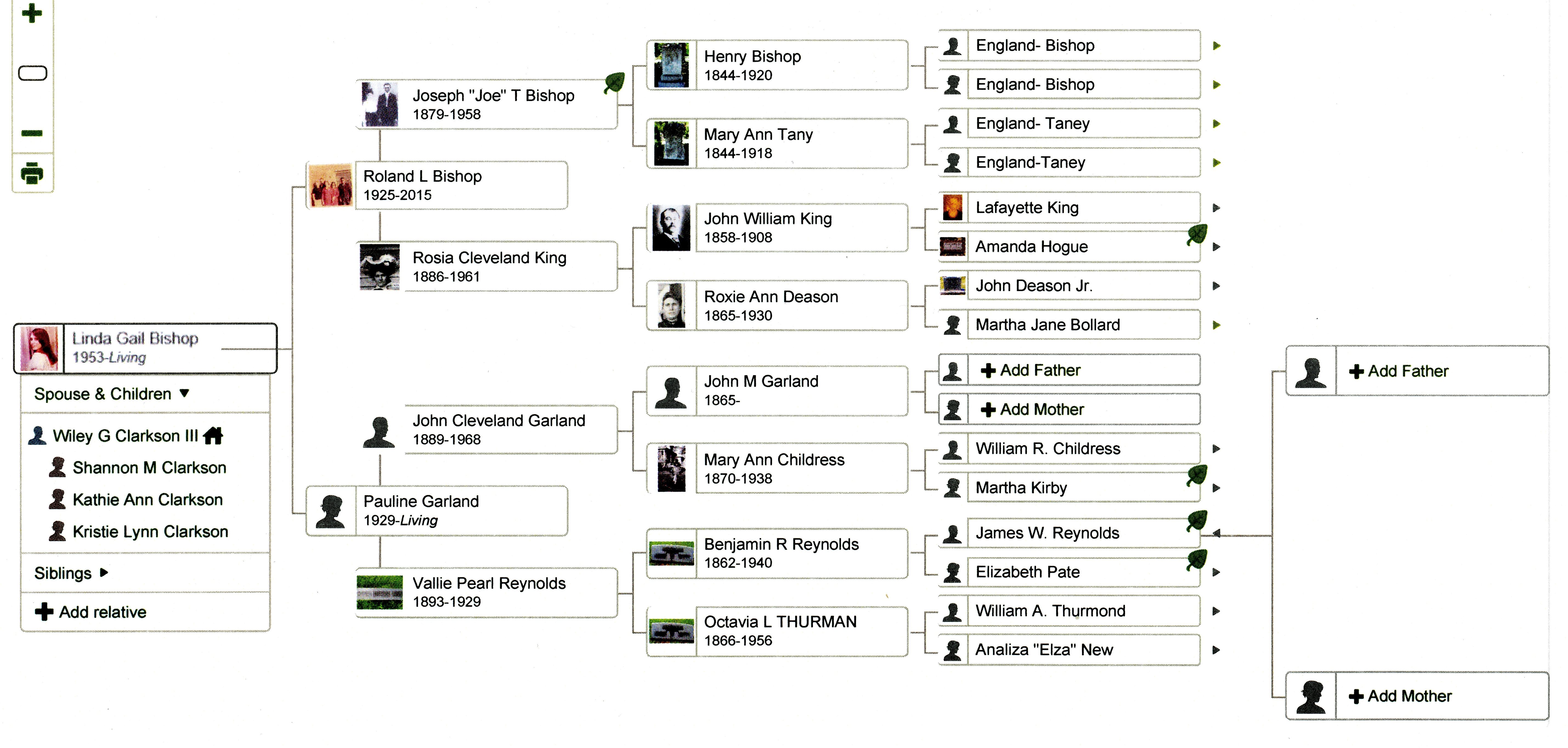 Garland - Pate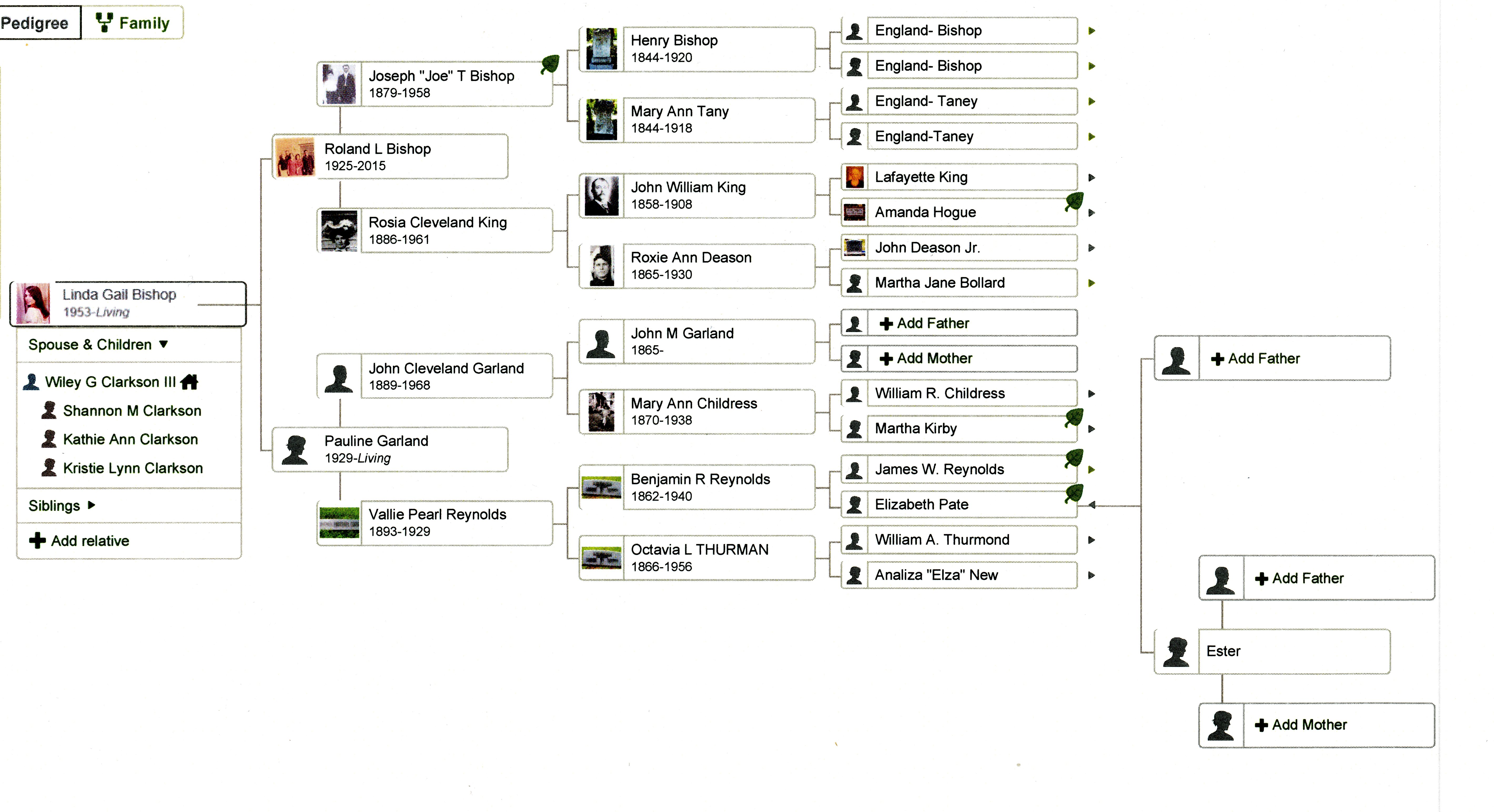 Garland - Thurmond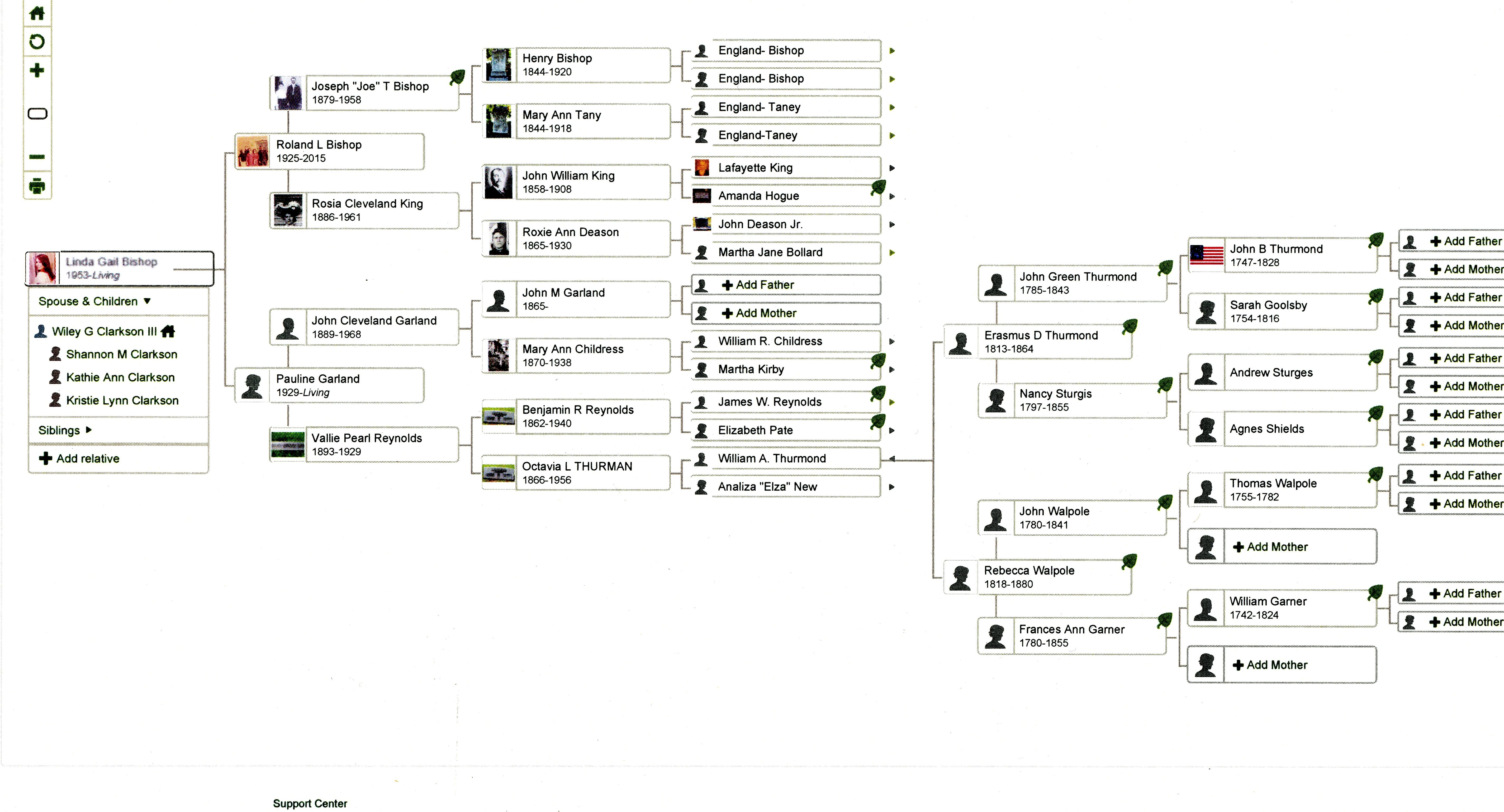 Garland - New